Why you should choose bapro
Bapro's mission is the production and sale of test dynamometers that guarantee precision and repeatable results. We take care of all aspects of our products, from designing to production. Every single detail of our products, from production processes to testing, is designed to guarantee those reliability and precision requirements that have always distinguished us. The same principles that led us to become official suppliers for important research and development departments of companies like Magneti Marelli, Ducati, Audi Group and many more.
All chassis dynamometers manufactured by us are authorised by the Italian Ministry of Transport for vehicle approval. This recognition is the result of the construction accuracy of our characteristic technology, which is able to guarantee maximum precision, reliability and repeatability of results.
This is the basis on which we have always set ourselves in order to offer the market the best value for money and the best service to our customers without compromising on the quality, precision and reliability of our products.
Being consistent with these principles is what makes Bapro different from more 'economic' test benches, by not offering chassis dynamometers in its range of products that are not able to guarantee precision and repeatability (Among these, the most common mechanically connected axle dynamometers)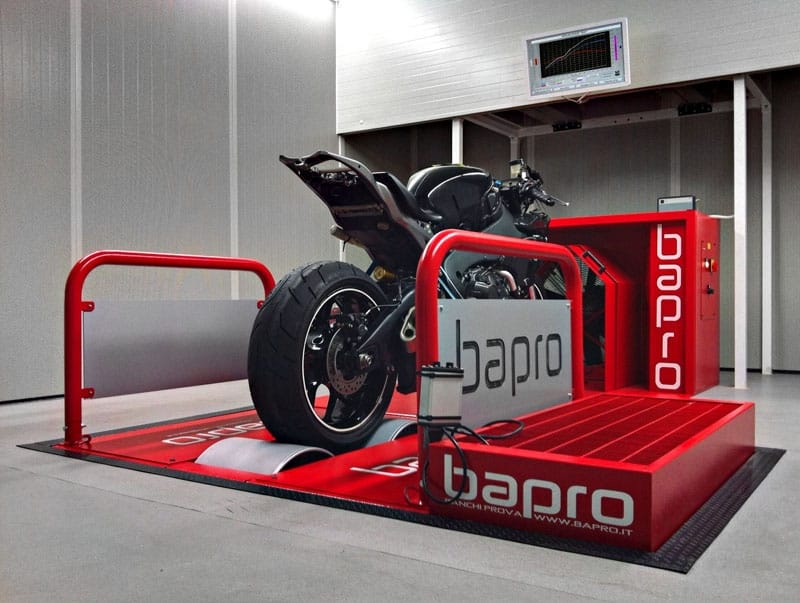 Which dynamometer to choose?
Firstly, we recommend you determine the maximum power that will be managed.
We usually recommend our Standard (S) line for applications with 'average' power; the HP line for all applications with very high torque and power features.
For example, for over a decade, we have been the official suppliers of Ducati, and this is because of our bi-roller solution (unique on the market – model BPM-2RHP). It is the only one that is able to correctly test the extremely powerful motorcycles of Borgo Panigale.
When choosing dynamometers for four-wheel drive vehicles, you will discover the numerous advantages offered by our patented solution of electronic synchronisation and DYNO MODE