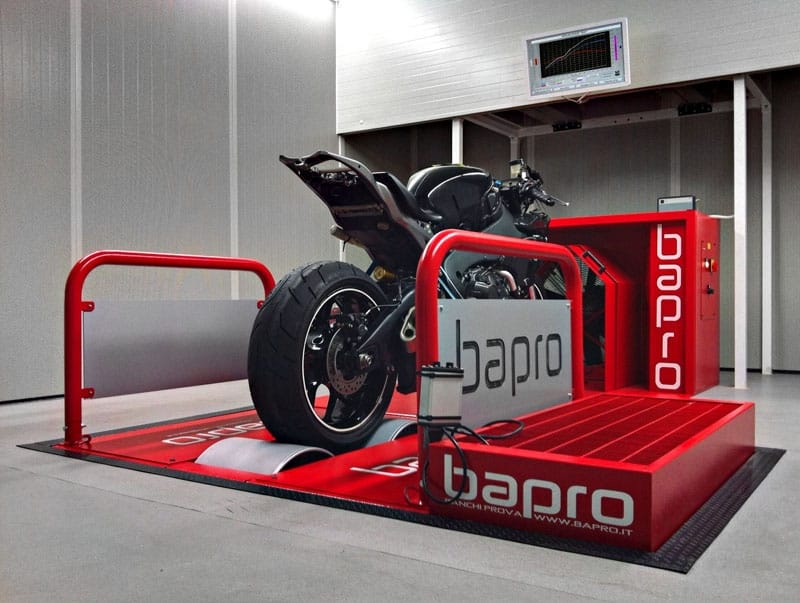 Which dynamometer to choose?
Firstly, we recommend you determine the maximum power that will be managed.
We usually recommend our Standard (S) line for applications with 'average' power; the HP line for all applications with very high torque and power features.
For example, for over a decade, we have been the official suppliers of Ducati, and this is because of our bi-roller solution (unique on the market – model BPM-2RHP). It is the only one that is able to correctly test the extremely powerful motorcycles of Borgo Panigale.
If your need is to purchase a dyno to test AWD vehicles, today the dyno market offers solutions with mechanically linked or electronically synchronized axles.
We try to guide you in this choice as best we can do it:
BANCHI 4wd BAPRO - Electronic synchronization of the axes:
Our dyno for all-wheel drive vehicles are equipped with ELECTRONIC AXIS SYNCHRONIZATION by means of software, which allows them to be controlled at high frequency (1 kHz), thus guaranteeing the typical precision of our dynos.

Thanks to the new generation firmware (made by us) with the Bapro synchronized dyno
you will be able to select no longer two, but up to ten power test modes for 4WD cars.
This will allow you to safely test even the latest generation 4WD cars, including the 4 Matic systems of Mercedez A35 and A45 AMG (and similar).

The bench operator will have the possibility to configure the Sweep test in each of its parameters without forgetting that the right test gear is also part of this set: the optimal test configuration for each vehicle to be tested can be quickly found.
BAPRO DYNO 4WD with mechanically linked axles:
If you want to save time, the Bapro mechanically linked dyno allows you to carry out the same tests more quickly and without deactivating the traction controls.
Unlike the competitors' linked dyno, that are able to perform without deactivating the traction controls but are NOT able to guarantee perfect synchronization with the axles and therefore to have the RELIABLE DATA that the Bapro linked dyno can give!
It is also equipped with a system that allows you to disconnect the axles transforming it into a synchronized dyno with all the advantages of the case.
Bapro's philosophy is to offer chassis dynamometers capable of distinguishing themselves for precision, test repeatability and reliability.

 
To confirm, watch these videos: