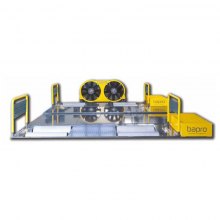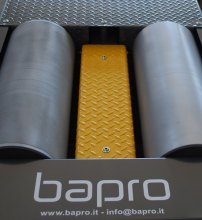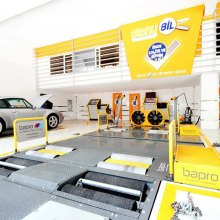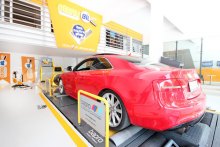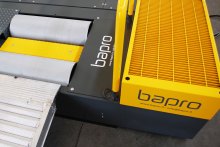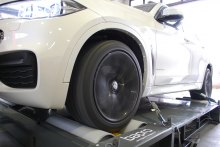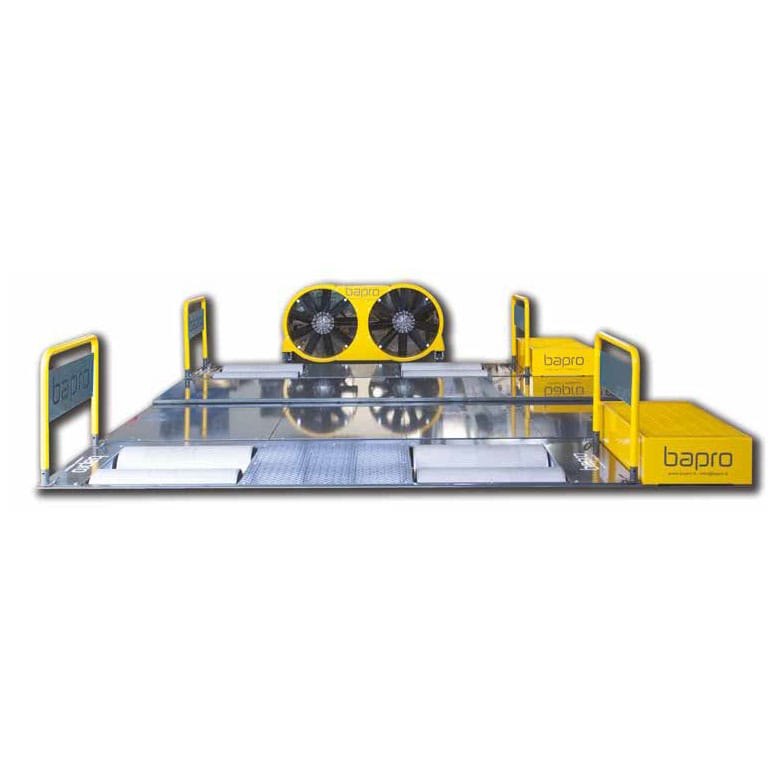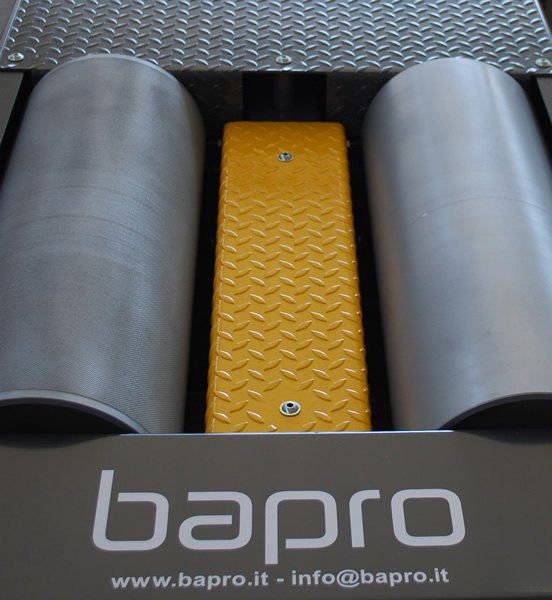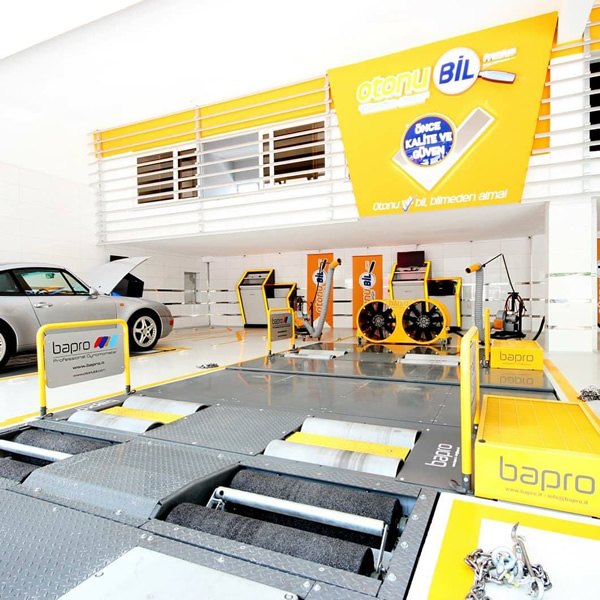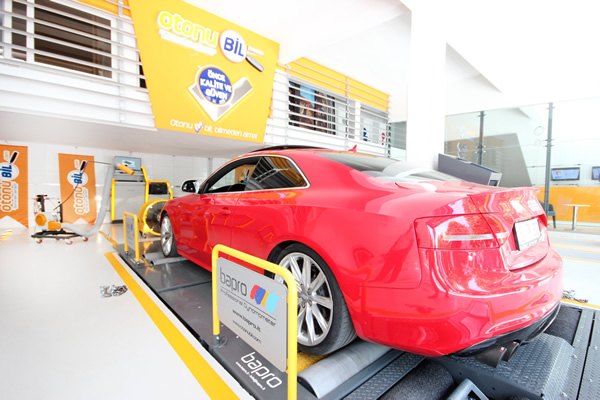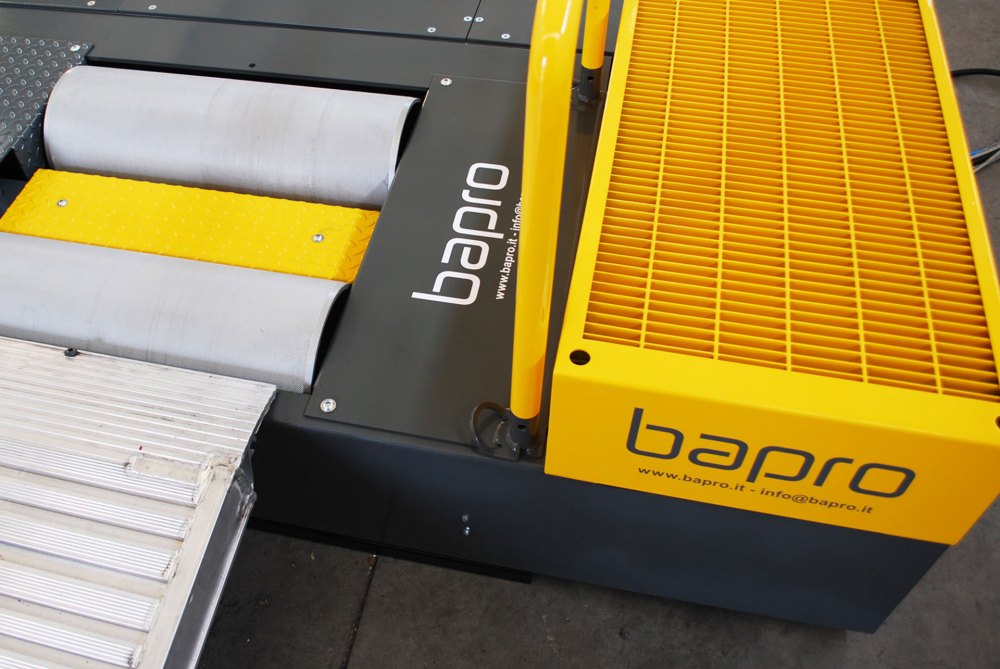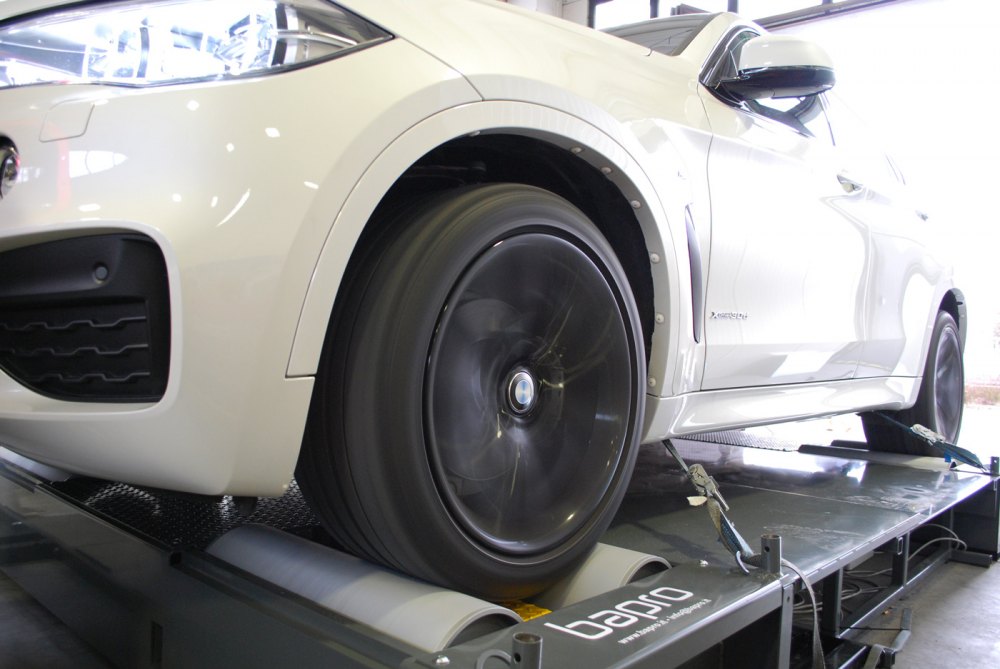 S series comes with knurled rollers as standard, which provide the highest traction between rollers and tires, a guarantee of an extremely accurate measurement. Specifically designed for standard cars' workshops, test lanes.
This series has lower performances if compared to our HP (High Performance) Series, but maintains the same accuracy and balanced top level components.
Axles synchronization: 
Electronic linked and synchronized axles through software, made by fast and precise high frequency control of eddy current brakes, with the aim to synchronize the axles in a 4wd car (Bapro's patented system). 
This function avoids any differentials damage and helps to carry on more accurate tests, because wasted power due to slippage inside the differentials is avoided too. 
Thanks also to this, BPA-4R S dyno is extremely easy to be installed and maintenance is almost absent.
✔️ Suitable for measuring electric cars
Description
Mechanical features:
Roller diameter: 240 mm
Roller width: 660 mm
Balance quality grade G 2.5
All the mechanics is laser aligned
Overall dimensions mm: 4160 x 3130 x h. 360
Max weight per axle: 2.000 kg
Performances:
Maximum speed: 250 km/h
Maximum measurable power: 800 HP (400 HP per axle)
Power supply:
voltage (Dyno) single phase  230 VAC
voltage (Fan cooling system) 3/N/PE 400VAC
frequency 50 Hz
fuses 16 A
compressed air 6 bar
Advantages:
Shorter repair time (fast and exact diagnosis)
effective use of the instruments already present in workshop (diagnosis equipment, gas analyzer)
Avoid any risks from road tests (traffic, accidents, fines)
Results certification (performance enhancement)
Accessories sale improvement by result verification (exhaust systems, efi controller etc..)
Second-hand vehicles sale improvement by engine health certification
Vehicle check before second-hand trades
Renting for tests and technical checks
Measuring program:
Transmission verification (clutch slippage)
Power step test
Power sweep test
Cooling system check (radiator, fan sensor, thermostatic valve)
Diagnosis by gas analyzer under load
Vehicle test with constant speed
Vehicle test with constant force
Vehicle test with constant load
Road simulation (slope, drag resistance, weight)
Vehicle test with constant RPM
Durability tests
Engine mapping to all RPM
Diagnosis by scantool during road simulation
Standard features
2 Eddy currents brakes, 8 rollers knurled over the entire width, finished by cut knurling
Electric adjustment of vehicle wheelbase; pneumatic vehicle lifter, with integrated rollers lock
Fully functional management software
Optional features
Double ventilation system movable on wheels, target power 6 kW, flow rate 44.000 m3/h (4 kW optional)
Single ventilation system movable on wheels, target power 3 kW, flow rate 22.000 m3/h (2 kW optional)
Lambda kit: 5 wires wide band Lambda probe and controller
Boost pressure input 0÷2.5 bar relative pressure ± 0.035 bar error. (Requires outer meteo sensor box)
Lambda Input connect a vehicle lambda probe with an external controller (Outer meteo sensor box)
High width aluminum loading ramps. Needed when the dyno is installed on ground.
Computer trolley built by heavy duty lasting steel, Pro: heavy duty, movable, wide working surface
Proportional ventilation speed control adjusting the fan speed in function of the rollers speed
Infrared remote control test bench management directly from vehicle cockpit
Roller covers protect the rollers when the dynamometer is not working
Personal computer and display
Safety Equipments: Side safety barriers with logo panels, Anchoring ratchet straps, High attenuation ear muff
Comparative table
 

BPA-2R HP

BPA-4R HP

BPT-2R

BPA-2R S

BPA-4R S

Performance
Maximum speed
360 km/h
360 km/h
200 km/h
250 km/h
250 km/h
Maximum adsorbable power
650 HP
1300 HP
400 HP
–
–
Maximum measurable power
1000 HP
2000 HP
900 HP
400 HP
800 HP
Maximum traction force
8000 N
16000 N
16000 N
–
–
Mechanical features
Rollers diameter
400 mm
400 mm
400 mm
240 mm
240 mm
Rollers width
700 mm
700 mm
700 mm
660 mm
660 mm
Roller balancing grade
G 2.5
G 2.5
G 2.5
G 2.5
G 2.5
Equivalent base inertia
450 Kg
900 Kg
550 Kg
240 Kg
480 Kg
Dimensions
3470×1135 mm
4360×3470 mm
3470×5300 mm
3070×870×310 mm
4160×3130 mm
Deck height
410 mm
460 mm
640 mm
360 mm
360 mm
Weight
2500 kg
2500 kg
–
2000 kg
2000 kg
Voltage
400 V 50 Hz 3/N/PE
400 V 50 Hz 3/N/PE
400 V 50 Hz 3/N/PE
220 V 50 Hz 1/N/PE  
220 V 50 Hz 1/N/PE  
Configurations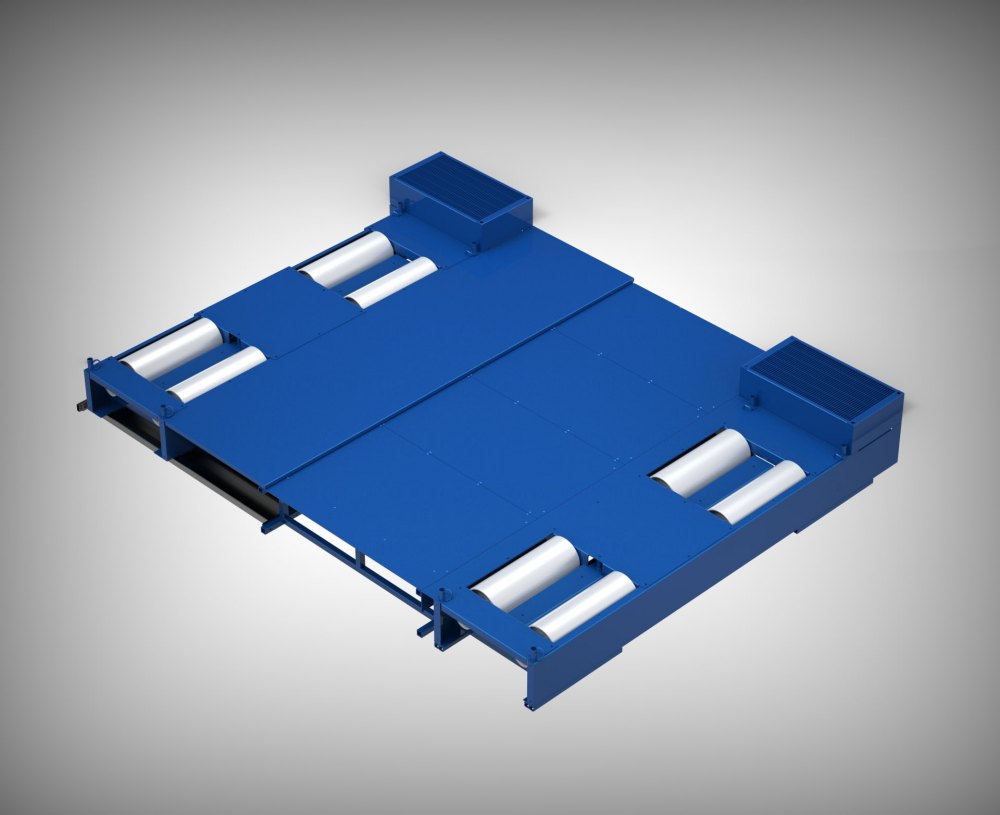 Car Dynos 4WD – BPA-4R S - Basic Configuration